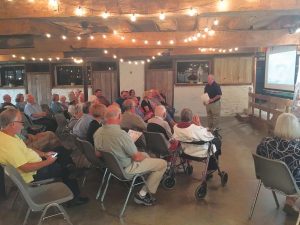 We Need Your Support!
Help us continue our mission of preservation and education by supporting our efforts to offer programs.
Our Programs "Bring History to life"
Our programs, most of which are available to the public at no charge, "Bring history to life" with expert speakers, interesting topics, colorful images, video, exhibits, and lively discussion.  Attendance at our programs averages over 120 people.  Look over our Program Schedule
Become a sponsor of our programs
A limited number of sponsorship opportunities are available. Your investment in program sponsorship gives you a great opportunity to reach a large segment of the population in Delaware County and beyond.
Program Sponsorship Packages (click heading for details)
R. B. Hayes Sponsorship Package
Frank B. Willis Sponsorship Package
Forrest Meeker Sponsorship Package
Moses Byxbe Sponsorship Package
---
The Delaware County Historical Society is a non-profit (501 C 3) organization dedicated to promoting and sustaining interest in the history of Delaware County, Ohio through historic preservation and education. Since 1947, we have led our community in providing student classroom education on historic topics as well as research opportunities. We manage the Cryder Historical Center, Research Library, Nash House Museum, The Meeker Homestead Museum and the Barn at Stratford event venue.
You can also contact us at director@DelawareOhioHistory.org or 740-369-3831 ext. 3
Mailing & Business Office address – 2690 Stratford Road, Delaware, Ohio 43015